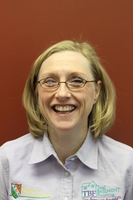 Alison - Office Manager
Married, 6 Children
Residence - Howell, MI
Home Town - Defiance, OH
Alison graduated from Ohio State University. After several years working in early childhood education and staying at home with their six children, she has joined Paul as office manager.
Ali has proven to be quite an asset to the team. She has an awful lot of responsibility at work and at home and does a wonderful job with both. She is one of those "real nice people" answering the phones and will always do what she can to help and get answers. She handles the majority of the office duties and the other things that just need to get done.
Alison has also completed a series of courses to earn the CAPS (Certified Aging-in-Place Specialist) designation from the National Association of Home Builders (NAHB). The CAPS program addresses all aspects of aging-in-place modifications including strategies and techniques for designing and building aesthetically enriching, barrier-free living environments. The CAPS program goes beyond design to address the codes and standards, common remodeling expenditures and projects, product ideas, and resources needed to provide comprehensive and practical aging-in-place solutions. The focus of CAPS professionals is to make modifications that allow seniors and others with special needs to remain living at their own home.
Alison enjoys helping people and spending her free time with her family, especially going "Up North".