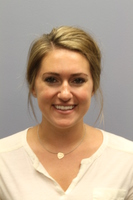 Britta - Designer
Residence - Brighton, MI
Hometown - Brighton, MI
Britta has been with Paulson's since 2018 and we are glad to have her as part of the Paulson's team. With all of the numerous choices in our showroom, our clients can look to her for assistance with their selections as she is very knowledgeable in the many products that we carry. With her experience in customer service and the design industry, adding Britta to our staff will ensure that all aspects of our office are handled in a meticulous manner and our customers are treated with courtesy and respect. She is looking forward to putting this experience to work by designing beautiful kitchens and baths that our clients will enjoy.
Britta is a great fit at Paulson's and will work hard to make sure that our clients are well taken care of. She has her bachelor's degree in Interior Design from Eastern Michigan University, School of Visual and Built Environments, College of Techonolgy. Britta will use her knowledge and experience to guide our clients in creating the best possible outcome for their remodeling projects. We are committed to providing clients with the highest standards possible in the remodeling industry. Each part of our Paulson's team is integral in carrying out our mission: Satisfying our customers by doing what we say we're going to do when we say we're going to do it! sm Having another friendly face to assist our clients helps us to do this.
In her free time, Britta enjoys spending time with her friends and family and hanging out with her cat, Blair.