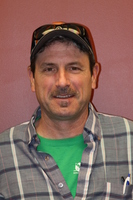 Cy - Carpenter
Married - 3 Children, 4 Granddaughters
City of Residence - Whitmore Lake, MI
Hometown - Springdale, OH
Hobbies - Art & Music
Cy has been with Paulson's since 2013 and has been working in the remodeling industry for 30 years. We are glad to have Cy aboard; his experience and problem solving skills are a valuable addition to the Paulson's team. Experience is something that Paulson's is proud to bring to our clients. Cy is also a licensed builder and is lead paint certified. Paulson's hires only the most qualified tradesmen to staff our team and works closely with our contractors to insure the highest of industry standards.
Since 1996 Paulson's Construction has been serving the greater Livingston County area, providing clients with superior value in products and services. Cy's experience will help us to carry out our company mission: Satisfying our customers by doing what we say we're going to do when we say we're going to do it!(sm)
During his free time, Cy is a singer and guitar player in a local band.