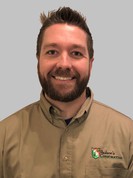 Matt - Design Consultant
Matt
Residence – Linden, MI
Hometown – La Porte, IN
Hobbies – Hockey, Golf, and Boating
Philosophy: Listen to the client, ask questions, listen more. Then use the tools and knowledge of the team here at Paulson's to design, create, and construct on time and within the budget.
Work Experience: Matt has a wealth of experience in the industry having been in the business for 20 plus years. He worked hands on early in his career, and for 6 years he worked for a large hardwood molding manufacturer which allowed him exposure to different design features that can come from the many species of wood used throughout a home. At Paulson's we saw a unique opportunity in bringing Matt on board; with his background in both renovation and building, he can provide customers with the top-notch service that they can expect from Paulson's.
Paulson's Construction has been serving Livingston County and the surrounding areas since 1996, providing clients with the highest standards possible in the remodeling industry. From start to finish, our client's satisfaction is our number one priority. This is where Matt comes in. He has been part of the Paulson's team since 2018; and with his skill in designing unique exterior and interior renovations within a client's budget he helps us provide our clients with the perfect mix of value and quality they are looking for!
Matt enjoys spending his free time with his family and friends around a backyard fire barbeque.