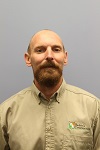 Matt - Superintendent
Married, 2 Children
Residence - Fowlerville, MI
Hometown - Sarasota, FL
Matt came to Paulson's in 2017 and we have been delighted to have him as our superintendent. He has been involved in the building industry for over 18 years. Matt is experienced in all phases of the remodeling industry from start to finish; he has also completed his Lead Renovator certification. His experience and expertise as well as his awesome organizational skills are helping to run each project as smoothly and efficiently as possible. This is something our clients will definitely appreciate.
Paulson's Construction has been serving the greater Livingston County area since 1996, providing clients with the highest standards possible in the remodeling industry. By being proactive in the remodeling industry through education, building science, and new technology we have been able to provide our clients with superior value in products and services as well as a standard three year warranty. We have done hundreds of remodeling projects in the area ranging from the very small, to very large kitchens, baths, basements, and porches, specializing in whole house and historic renovations.
At Paulson's our clients are always number one. That's why we only hire the most qualified staff for our team. We are thrilled to have Matt as part of that team!
In his free time, Matt enjoys spending time with his family.